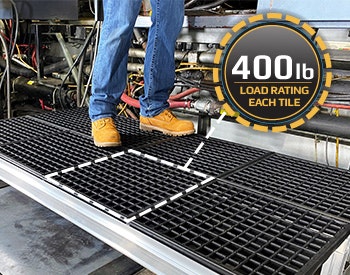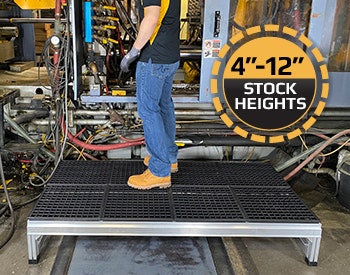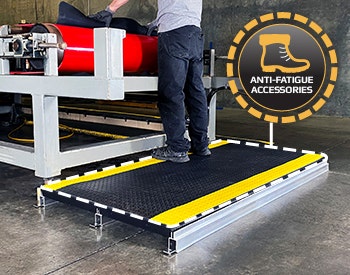 ---
FOUNDATION WORK PLATFORMS
Ergonomics is all about fitting your workspace to your workforce. Reaching up, over or down takes a toll on the health of your team and the efficiency of your operation. Putting your team at the proper elevation to the task at hand is critical. Foundation provides all the stability of traditional platforms, but at the fraction of the costs.
RAILS
Wearwell's Rail System is a tough, modular system with no welding or threading required. Save time, labor, material, and handling charges associated with traditional railing. Railing kits take the guesswork out of material needs for your unique layout.
Building straight runs and turns has never been easier. Use on solid concrete surfaces around the perimeter of our FOUNDATION platform system for added safety. Railing is available in 4 stock heights as well as custom heights. Work with an expert to plan larger layouts.
---
RAMPS
FOUNDATION Ramps create a smooth transition on and off FOUNDATION work platforms. 36" Wide ramp sections are placed at the end of the platform, locking in safe and securely.
Made from heavy duty aluminum, 3 standard FOUNDATION rampsizes are available to cover platform heights from 4-12". GripSafe Tape is available for added traction.
(Custom ramps and corners are available upon request.)
---
RAMPS & RAILS OVERVIEW VIDEO
Whether you need work platforms, ramps, or rails. FOUNDATION has got you covered. Watch the Ramps and Rails overview video or browse all FOUNDATION has to offer.
---
FOUNDATION Work Platform Kits - Made for Industry
---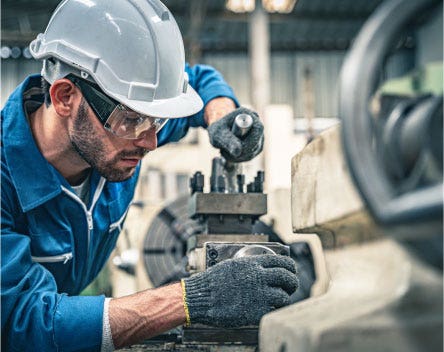 Work Platforms for Machining
Cutting fluids and metal swarf in machining operations can wreak havoc on traditional wood or steel platforms. FOUNDATION work platforms elevate machinists above slippery floors and provide sure-footing at the proper height to their work at hand.
---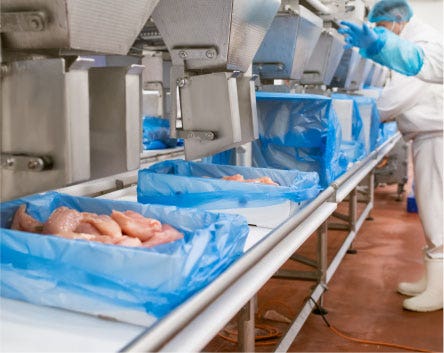 Work Platforms for Food and Beverage
By far, the largest safety challenge in the food and beverage industry is slip and fall prevention. FOUNDATION modular work platforms provide fast drainage and elevate employees safely above pooling fluids and slippery floors. The surface features integrated traction points for unmatched, long-lasting slip resistance.
---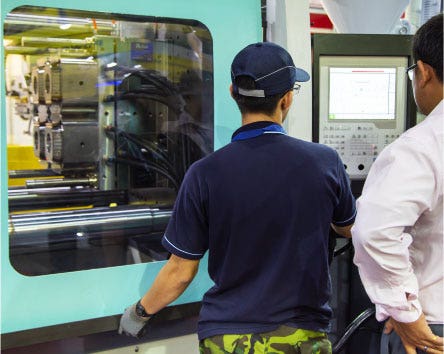 Work Platforms for Injection Molding
Injection molding operators often find themselves in awkward positions. Reaching to set up, operate and maintain machines isn't always at a standing height. Putting operators at the proper elevation is key to their safety and performance. An awkward posture is more than just uncomfortable – it causes imbalance, and the continual strain can lead to debilitating MSDs.
---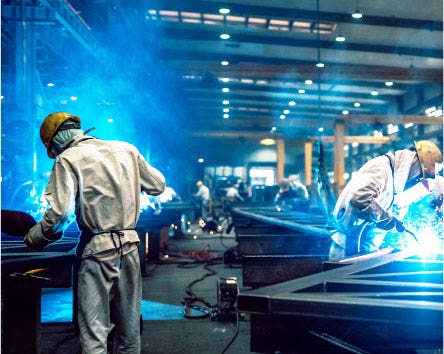 Work Platforms for Assembly Operations
FOUNDATION modular work platforms put assembly line workers at the best height for their work at hand. The lightly textured surface is ideal for walking and pivoting along assembly lines of any length. This style is easy to clean and ideal for the use of anti-fatigue matting.
---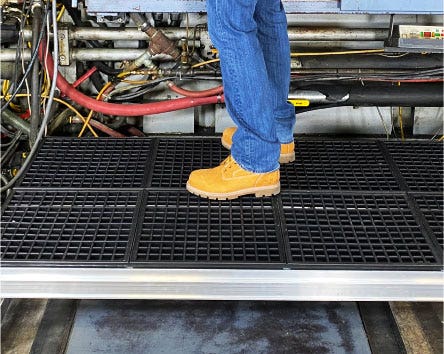 Work Platforms for Cords and Hoses
In the industrial market pneumatics, hydraulics and electricity are the powers that drive a facility. Most often the hoses and cords that deliver the power are in the same space with employees. In these situations, both are in harms way. FOUNDATION modular work platforms provide the clearance needed to protect and easily route clumsy cords and hoses out of the way of workers, elevating your workforce safely above trip hazards.