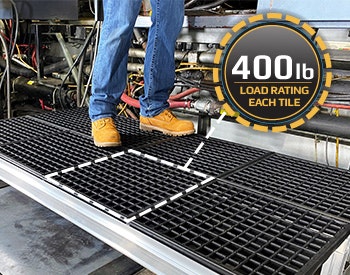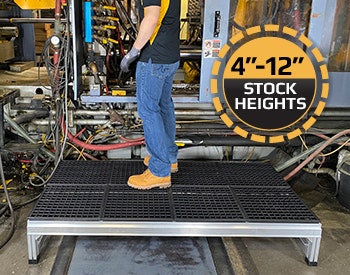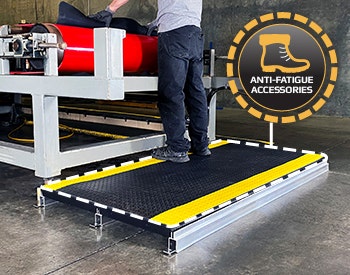 ---
FOUNDATION WORK PLATFORMS
Ergonomics is all about fitting your workspace to your workforce. Reaching up, over or down takes a toll on the health of your team and the efficiency of your operation. Putting your team at the proper elevation to the task at hand is critical. Foundation provides all the stability of traditional platforms, but at the fraction of the costs.
RAILS
Wearwell's Rail System is a tough, modular system with no welding or threading required. Save time, labor, material, and handling charges associated with traditional railing. Railing kits take the guesswork out of material needs for your unique layout.
Building straight runs and turns has never been easier. Use on solid concrete surfaces around the perimeter of our FOUNDATION platform system for added safety. Railing is available in 4 stock heights as well as custom heights. Work with an expert to plan larger layouts.
RAMPS
FOUNDATION Ramps create a smooth transition on and off FOUNDATION work platforms. 36" Wide ramp sections are placed at the end of the platform, locking in safe and securely.
Made from heavy duty aluminum, 3 standard FOUNDATION rampsizes are available to cover platform heights from 4-12". GripSafe Tape is available for added traction.
(Custom ramps and corners are available upon request.)
---
RAMPS & RAILS OVERVIEW VIDEO
Whether you need work platforms, ramps, or rails. FOUNDATION has got you covered. Watch the Ramps and Rails overview video or browse all FOUNDATION has to offer.